to wear that is...
our sweet little girl is...well, she's not as little as she once was.
the girl has always been long and skinny...I believe that the adjustable waist pants were invented for our tall thin child...
and then...
and then she got her tonsils out last August and thus began the 9 month meal!
the girl had apparently been starving for the past 8 years 9 months...
tonsils removed and the feast began...
and her little body became a healthy body...
GREAT....WONDERFUL...FINALLY...
except that this momma likes to buy clothes at the end of the season for the next year...getting those $15 shorts for $0.97!...but our little girl went up two sizes over this past winter and all the clothes I bought for her at the end of last summer to wear this summer are now useless...
so I had to come up with a way to stretch some extra life out of some clothes/items already around the house...
here are 4 creations...
one is totally from scratch and the other 3 are upcycled pants...
skirt 1...totally from scratch...I plan on doing a tutorial later this week or next on this simple skirt...took me less than an hour to make with no pattern.
shorts 1-a pair of cargo pants that the girl never wore I just cut off, cuffed up and hemmed...I might be adding some cute buttons on the side pockets to girlie these up...
Shorts 2-cute pair of jeans that had the word LOVE down the side that she never liked...but liked the flowers...so I upcycled them into shorts...will post a tutorial later this week on how to make the cuffs on these.
Skirt 2-jeans that I cut off and then cut the legs open and added bright fun panels to turn into a skirt...a tutorial for these will also be in the near future!
apologies for the headless girl...she was not in a picture mood this morning and I really just wanted to get the images of the projects up...so I told her that she didn't have to smile or even brush her hair!
I'm linking this to Nifty-Thrify Tuesday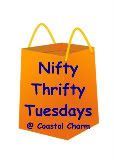 and to Transform Tuesdays